Vera Preschool in Bellandur: Premier Choice for Daycare & Early Education
Vera Preschool in Bellandur, where your little one can learn with fun, unleash stellar creativity, and bloom to become their best self. Our curriculum, infrastructure, and environment are planned to allow the best first introduction of your kid to the outer world.
We are the best preschool and daycare in Bellandur, located in the heart of the IT Hub, where your child learns academic concepts and develops social skills in a cocoon of safety.
Best Preschool in Bellandur where Curiosity Feels Like Home
A child's first introduction to school is often marked with tears. But not with Vera! When your little ones can learn new concepts while playing, make new friends by themselves, and unleash their creativity without inhibitions, the school will become their favorite part of the day. Our infrastructure is cozy, comfortable, and inviting, which gives them a sense of being at home.
We believe that kids must be allowed the opportunity to explore different concepts, arts, and skills to help them attain their full potential. To encourage this, we have a compound learning program with game-based and book-based learning, art and craft, music and dance, culinary projects, and much more.
What Makes Vera The Best Preschool and Daycare In Bellandur?
Vera provides the best need-based daycare and preschool services to children between the ages of 2 to 6 years. The institution has the latest security technology and a guarded entrance to ensure the full safety of your child. 
Our curriculum, as the best play school in Bellandur, Bangalore, is made with your child's all-around development in mind. Our teachers are trained professionals who introduce your kids to the importance of discipline while providing uninhibited encouragement to explore their curiosities, unlock their creativity, and learn the art of socializing.
Our services for need-based daycare in Bellandur allow you to have your child looked after and cared for even while you are away. With the flexibility of our module, you can call on us even during last-minute emergencies!
We have a highly comprehensible and enabling program co-developed with HEI Schools, Finland, a leading institution for childcare. As the best nursery school in Bellandur, we help your child navigate through social interactions, understand and exploit their creative instincts, and develop transversal skills. With such a nurturing, playful, and encouraging introduction to the academic world, your child will never shy away from learning and exploring.
Our need-based daycare helps your child in dynamic learning throughout the day. We have healthy meal plans, scheduled nap times, and other activities to keep your little one engaged and happy. We introduce them to joyful learning and little lessons on cleanliness, routines, and conversational manners, all the while giving them the love and safety of home.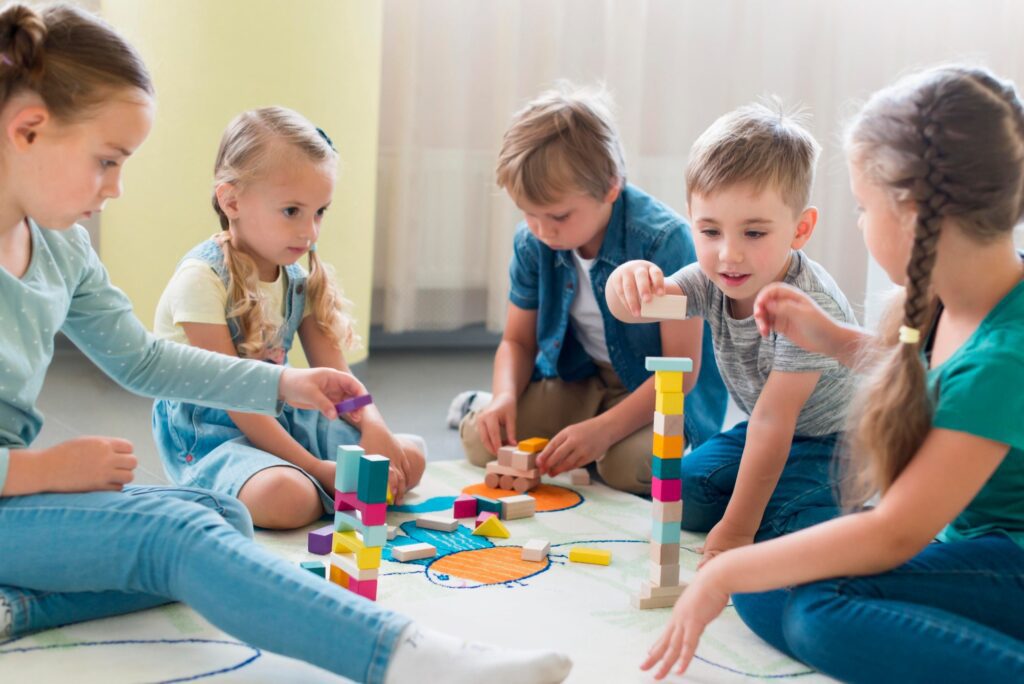 Programmes Designed for the Best Care and Counsel for Your Child
Vera Preschool follows the Reggio Emilia philosophy, supporting and encouraging the unique qualities of every child and helping them to explore their capabilities, creativity, and potential. Our playschool in Bellandur provides a secure and guided environment for your little one to traverse through the world out of their homes.
Highlight Features Of Vera Preschool and Daycare In Bellandur
At Vera Preschool, we integrate features, curriculums, services, and, qualities to bring you the best preschool and daycare center for your child. Our holistic approach to ensuring your contentment and your child's academic, creative, social, and abstract development makes us among the most reliable and loved preschools in Bellandur.
Best Preschool And Daycare In Bellandur
At Vera Nursery School in Bellandur, we provide special attention to every child and cater to their learning processes. Our versatile teaching plans make learning fun for your kids and turn it into something they find joyful. From academics to morals and communication skills to innovation, we encourage your child to explore every aspect of themselves. Our goal is to give them the best support and guidance to form the perfect base for their bright future. To ensure the best care and guidance for your child, choose Vera Preschool in Bellandur!
Our daughter is adoring Vera school teachers & it is the best school in my personal view. We had to change our daughter's school two times in 6 months but Vera turned out to be the best one out of all schools. We enrolled her in Vera International Preschool & Childcare after a lot of searches. As parents, we are very happy & more significantly our daughter is really enjoying time with teachers. Teachers handle everything professionally, good environment for kids, they take care of children with utmost love and affection. A very safe place for kids.
Best Preschool & Daycare In Marathahalli
Are you searching for a well-structured and hygienic play school for your children? Well, Vera International Preschool & Childcare in Marathahalli is a great option. Children can easily find this place reachable within these zones. Easy guidelines can be used to reach here without any hassle. They can further, make use of our support section, reach out to our counselling team and speak of any hindrances regarding joining, curriculum or other school matters.
Vera Preschool & Childcare Nearby Places
Coming up:
Whitefield
Hebbal
Sarjapur Road
Nr Manyata Tech Park on ORR